Definition of competitive monitoring
Competitive monitoring is the process of continuously gathering and assessing information about your competitors.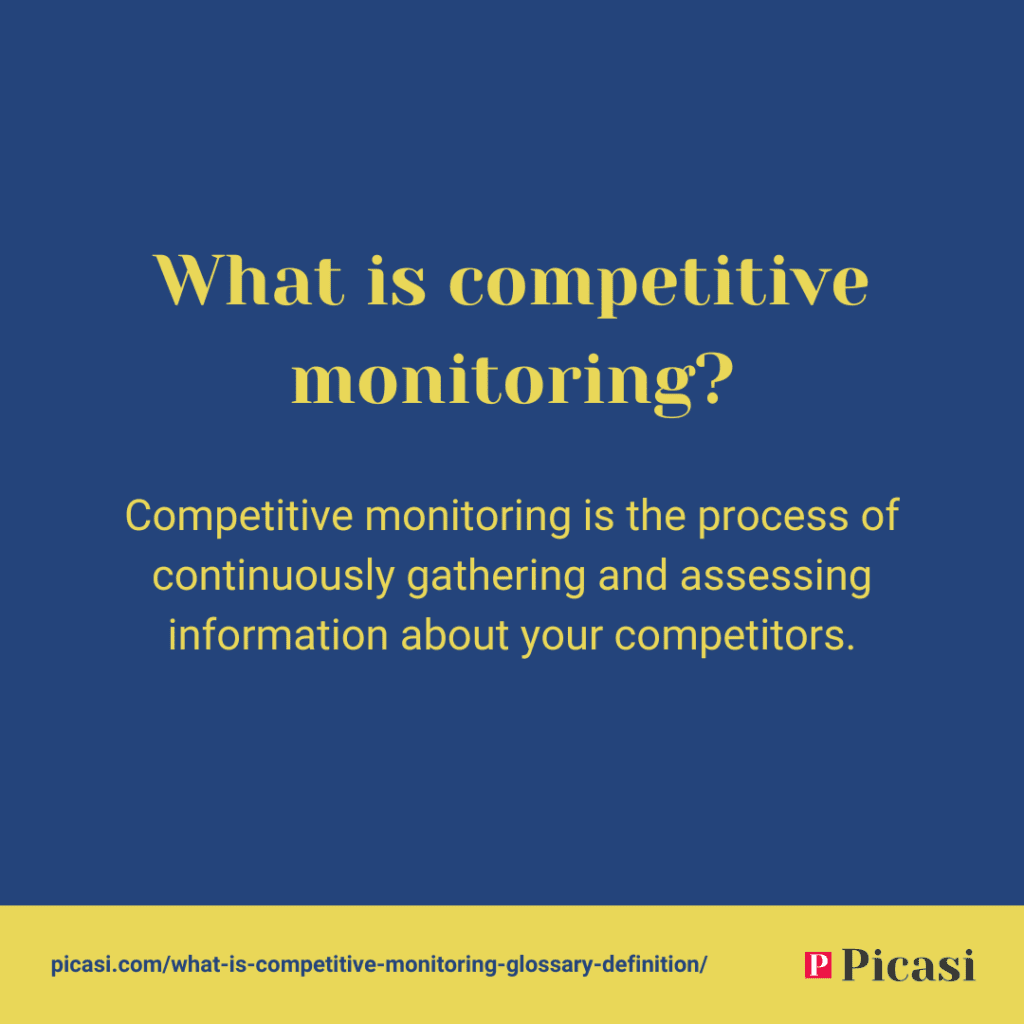 It can either be part of early market validation before entering a new market or part of the ongoing market evaluation businesses do on established markets.
Competitive monitoring aims to support the business strategy and can focus on different topics depending on your situation. Possible focus areas are:
Advertisement.
Business figures.
Communication.
Go-to-market strategies.
Products.
Human resources activities.
Positioning.
Pricing.
Sales processes.
Compared to competitive intelligence, "monitoring" underlines the continuous effort to stay up-to-date about the competition. It's not a one-time research project delegated to an intern. It's an organized process that ensures valid information for your business's decisions. It can be very pragmatic, but it's defined and established as a reliable insight supplier.
At the Crunchbase blog, Jaclyn Robinson points out that competitive monitoring is relevant for various positions, from C-suite to product development. And for businesses from newly founded startups to established corporations.
That being said, what's in it for you.
Why and how is competitive monitoring relevant for you?
As you can see, competitive monitoring supports your business with the insight you need to make well-informed decisions. This can be:
Insight into an upcoming market shift that forces you to reconsider your business strategy.
A piece of information that triggers the next sales meeting with a prospect.
A better understanding of your competitor's pricing strategy that helps you refine your own.
Data about your competition's most successful online content you might want to mimic.
There's so much value hidden in the information available from and about your market. Not using it is like navigating your ship blindfolded. Without using the map and compass, you have at hand!
There's no need to set up a new department for competitive monitoring.
The first step can be to dig deeper and find a way to monitor your market without overwhelm.
Choose a pragmatic way to get started and learn what information you can benefit from most.
The first step can be to follow your competitors' online communication with a free Picasi trial.
So, what are you waiting for?
Links to additional content about competitive monitoring
We're not the only ones talking about competitive monitoring. If you want to learn more about it, here are some sources for additional perspectives:
Yes, our rivals post valuable content, too. Some of them are in the list. Check them out, maybe their offer suits you better than ours.