Table of Contents
Why content monitoring matters in the first place
Facing competition is a good sign. It shows that you're operating in a valid market.
What is essential thought is that you know your competitors. And what they're doing. Not to mimic them. But to understand how they behave in the market you have to share. Because only then can you make informed decisions about your marketing strategy and tactics.
That's where competitive monitoring comes into play. So, let's start with a definition:
Competitive monitoring is watching your competitors continuously.
Too short? We also offer a more extensive definition of competitive monitoring in our blog.
Watching what, exactly, you might ask?
That depends on you. And what's important to you:
Is pricing a critical topic for you: Watch their pricing strategies.
Is public communication relevant? Watch their communication.
Is innovation your focus? Watch what and how they change.
We'll take a closer look at this question in the next section.
Anyway, there's no one-size-fits-all approach. You better tailor your efforts to your needs. That's why we show you different methods and tools in this article so you can choose what best supports your own business strategy.
But before assembling your perfect set of tools, let's dig deeper into the topics you can focus on.
Topics addressable through competitive monitoring
You won't be able to watch every single detail of your competition. And it's wiser to focus on what supports your strategy, anyway. Here's a list of topics we consider relevant:
Advertisement.
Business figures.
Communication.
Go-to-market strategies.
Products.
Human resources activities.
Positioning.
Pricing.
Sales processes.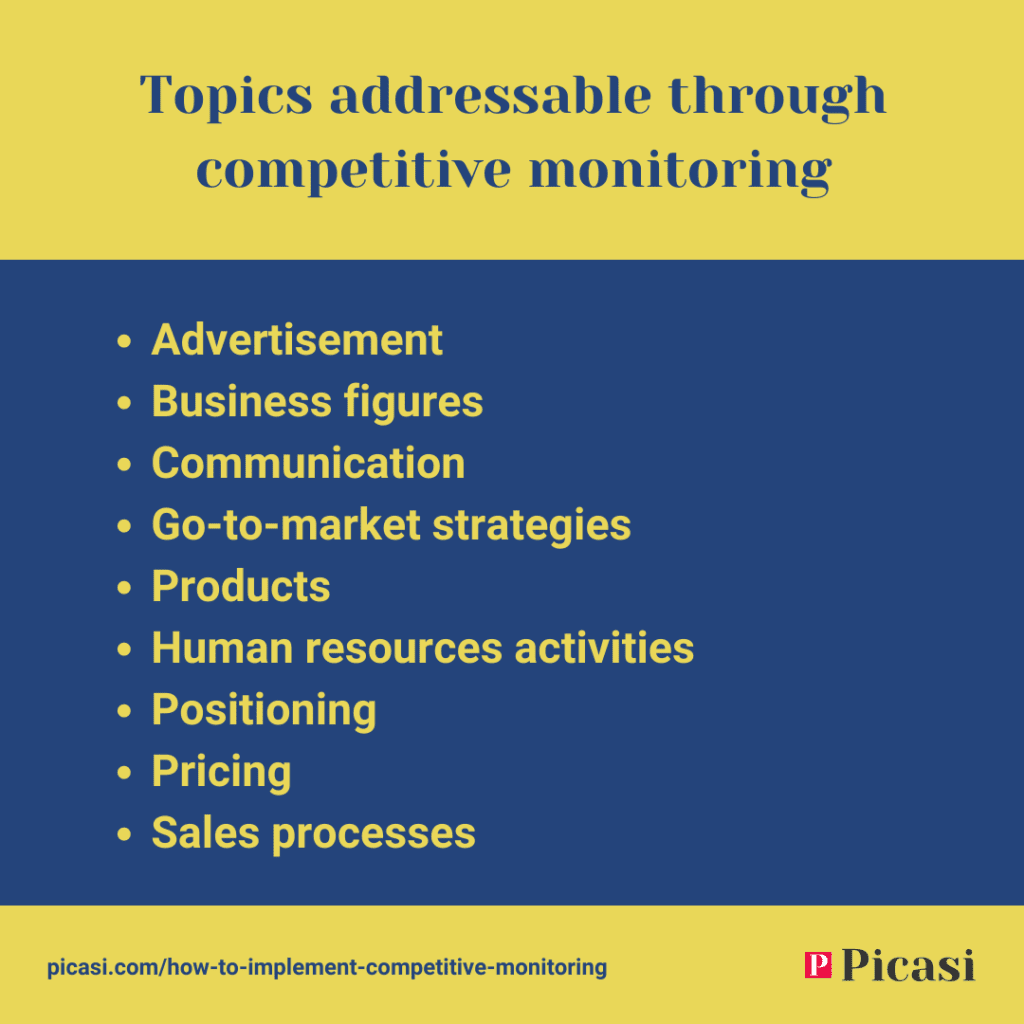 Each of these topics holds a lot of insight. Let's check it out.
Watching your competition's advertising
Advertising is a broad world, online as well as offline. Where do other market players place their ads? Who do they target? And what ad campaigns do they run?
You can analyze the advertising from a strategic perspective or get into the nitty gritty details of single ads, their messaging, composition, and connected funnels.
Watching your competitor's business figures
Key performance indicators (KPI) reduce business insight to numbers. A very condensed look at a business that shows trends and helps you decide where to look closer. From P&L statements to specific figures like customer count or churn rate, countless business-related numbers can support your competitive analysis.
Watching your competitors' communication
Today, most communication occurs online. And, still, some in print magazines or at trade shows. There are many virtual and real places to watch your competitors talk about themselves. The online channels are especially diverse:
Corporate and topical websites.
Newsletters and email marketing.
Social media platforms.
Podcasts.
Video content.
Online magazines.
Taking a closer look at your competition's communication is like setting up an early alert system that tracks important topics and ensures you don't miss the topics that concern your market. You can analyze their communications and social media strategy to adapt yours accordingly.
Watching go-to-market strategies
Companies follow different go-to-market (GTM) approaches. Knowing how other market players move allows you to refine how you address your market accordingly. Watching GTM and marketing strategies used in your market can be integral to competitive monitoring.
Watching your competitors' products
You better have an eye on the products of your rival brands. They compete with you, so your prospects and customers will compare them with yours. Better stay ahead by being informed. Because you can make better decisions and communicate more convincingly if you know how your products stack up against your competition.
Watching other businesses' human resources activities
Since you might be chasing the same talent, knowing how your competition approaches HR can be smart. Watch their vacancies, their benefits packages, and other perks they offer to catch the best fish in the pond.
Watching competitive positioning
Positioning is about how you present your business in the market and how different competitors compare. Watching your competitors' market positioning will help you understand the differences in the market.
And you better should.
Because the customers do.
Watching competitive pricing
Most customers compare prices before making a purchase decision.
Do you?
Well, I usually do.
In some industries and for some types of offerings, it's relatively easy to find pricing information that helps compare the offerings. Setting up price monitoring lets you understand their pricing strategy or discount initiatives and quickly analyze their impact on your business.
Watching your competitors' sales processes
Sales processes describe how companies attract customers. On their blog, HubSpot explains how sales processes can be set up as sales funnels or flywheels.
Watching how your competitors approach potential customers will help you make better decisions about your sales processes. And it allows you to talk to your prospects well-informed.
As you can see, competitive monitoring can look into different directions. To get started, we recommend picking just one focus. Later, you can expand your view and look at additional topics.
Now, let's take a look at how to monitor your competition.
The four different ways to monitor your competitors
Yes, monitoring your competitors can be a lot of work.
It can be overwhelming.
But you can choose among different ways depending on your needs, research capacity, and budget. These are your options:
Monitoring your market manually and in-house.
Using tools to monitor your competition.
Outsourcing monitoring to external partners.
Buying competitive information from service businesses.
Let's analyze how these four options compare.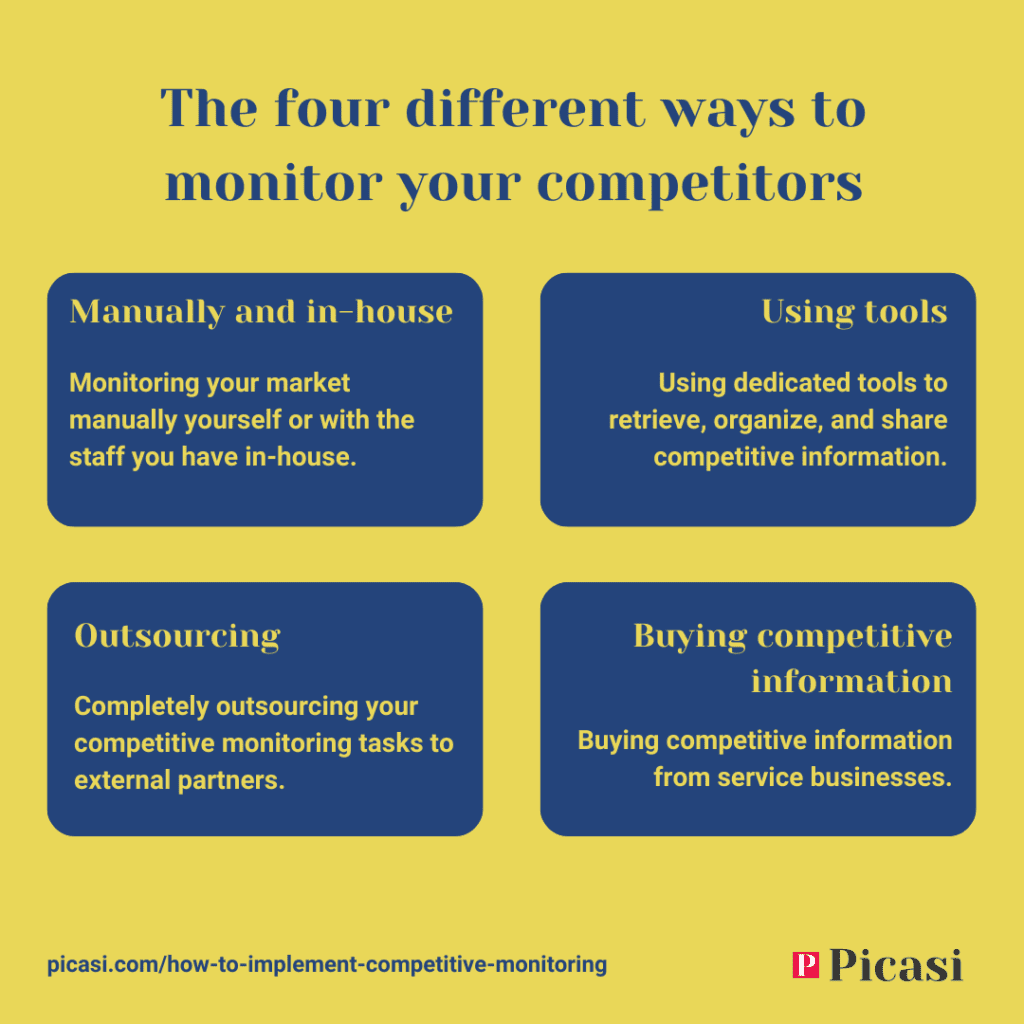 Monitor your competition manually in-house
That's how most of us get started: We need some insight quickly. No time for long discussions. No time to buy a tool. Just an urgent information request.
So, what can we do?
Well. Get it done.
Simply research the insight you need by digging the internet, calling chambers of commerce, or other official sources. This process is not easily scalable due to its effort. But it's very informative along the way. And you can increase both its efficiency and output quality by setting up processes and using tools like the Best Sources List.
However, if you want to gather competitive insight regularly, manual monitoring is just valid as a first step. We recommend moving to one of the other options quickly.
Use tools to support in-house competitive monitoring
We strongly support in-house competitive monitoring because screening information inside the organization can deliver amazing insight.
However, you will need some tools to become more efficient. These tools can help you
retrieve,
organize,
and share information.
The next chapter will cover different tools in detail.
But first, let's look at the remaining two ways to monitor other market players.
Outsource your competitive monitoring tasks
Whatever you can do in-house, you can also outsource to external partners. This can be a good choice if you have more money than time.
Depending on how you want to implement competitive monitoring, you have two choices: Establish a partnership to outsource it continuously or outsource the tasks as a project only when needed.
You can hire a virtual assistant (VA) or researcher via outsourcing platforms like fiverr or upwork. There are also dedicated VA businesses focussing on different regions or topics. A short Google search will help you get an overview.
Prialto's Guide to Hiring Virtual Assistants might help if you consider this option.
You can even go further and hand over your competitive monitoring to specialists. Let's see how.
Purchase competitive intelligence as a service
Instead of outsourcing your research processes, you can purchase the competitive intelligence you need from specialized businesses. No process definition is needed. No briefing. Pick the needed information from the shelf and go straight to the cashier.
Competitive intelligence as a service might not be a coined term yet. But that's what many businesses specialize in: Continuously gathering information about businesses to sell it.
If this is an option, check international service providers like Meltwater (with a communications focus) or Dun & Bradstreet (focusing on business figures). If you focus regional or local markets, you can also look for providers with a respective focus.
These are, of course, four prototypes of how you can set up your competitive monitoring. You can combine these options to use their advantages and meet your business needs.
However, you'll need tools to make your processes work whenever you choose from the first three options. Here are a few monitoring tools.
Competitor analysis tools that increase your efficiency
When we talk about competitive monitoring, the focus is on gathering insight. That's why we'll look at some of the best competitor analysis tools in a moment.
But keeping and sharing the insight you gain is important, too. So we'll share some thoughts about these process steps at the end of this chapter.
Tools and sources to retrieve information about your competitors
So, where can you retrieve competitive insight efficiently? These are some options to start with. They all collect reliable data for you!
These are a few tools you can use. In almost every country. And in almost every market.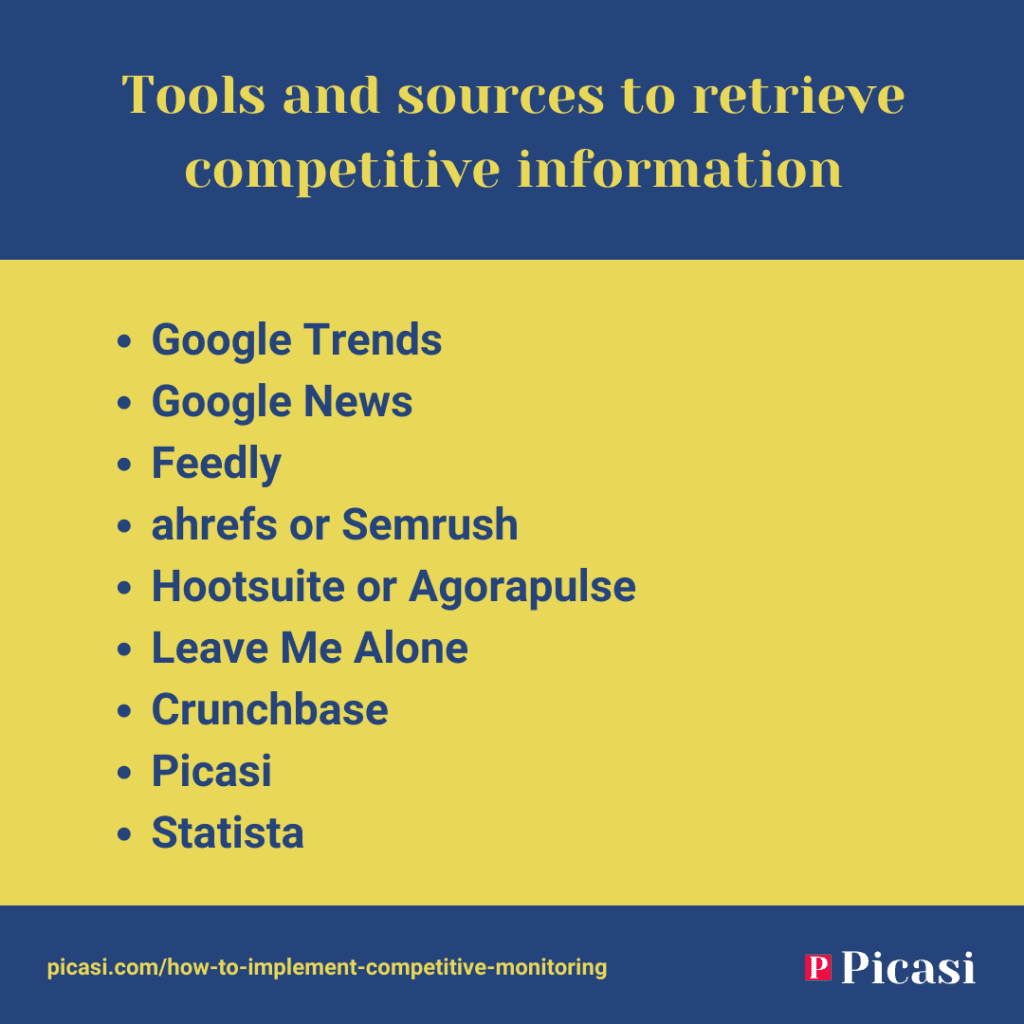 However, we recommend looking for specific sources about your market, too. Check tools and sources focusing on your business niche or your regional area. Also, ask authorities and trade organizations. They often provide insight that more general tools can't offer.
And then what? How can you best handle the insight you gathered?
Tools to store competitive insight
After investing precious resources in gathering competitive intelligence, we should definitely keep these valuable insights for later use. And since pen and paper make sharing too complicated, here are some tools you can choose from.
If you have a knowledge management tool established in your company, you can skip this list. You already know where to put what you know about your market.
If not, Notion is a rising star as a workspace tool that allows you to collaborate on all sorts of information. You can easily turn it into a competitor monitoring tool with a flexible structure you can always adapt to your needs. And it's pretty inexpensive.
Evernote is a strong alternative to Notion. It's been around for over 20 years and is very mature. You can find a great comparison on the Zapier blog to help you choose.
For Microsoft lovers, OneNote might be an obvious choice. This note-taking app is part of the Office 365 family and combines flexible note-taking with collaboration and good integration with other Office tools.
You can also store competitive insight in regular documents of your office software suite. However, this usually means stuffing information in a (technically) non-structured format which raises the friction when using the stored information later.
To keep it more structured, database tools like Airtable can help you organize your findings. They even offer competitive analysis templates to get you started quickly.
Our tool can too keep your findings well organized. By channel type. By competitor. Chronical. That makes it easy to get straight back to your past findings. (You can start a free trial right now.)
Last but not least, if you're using a CRM system, this might be a good place to keep you competitor analysis, too. Yes, they're not your customers. But still, CRM systems keep business-related information in a structured and retrievable way. Why not use it for your competitors, too?!
Who said the choice would be easy?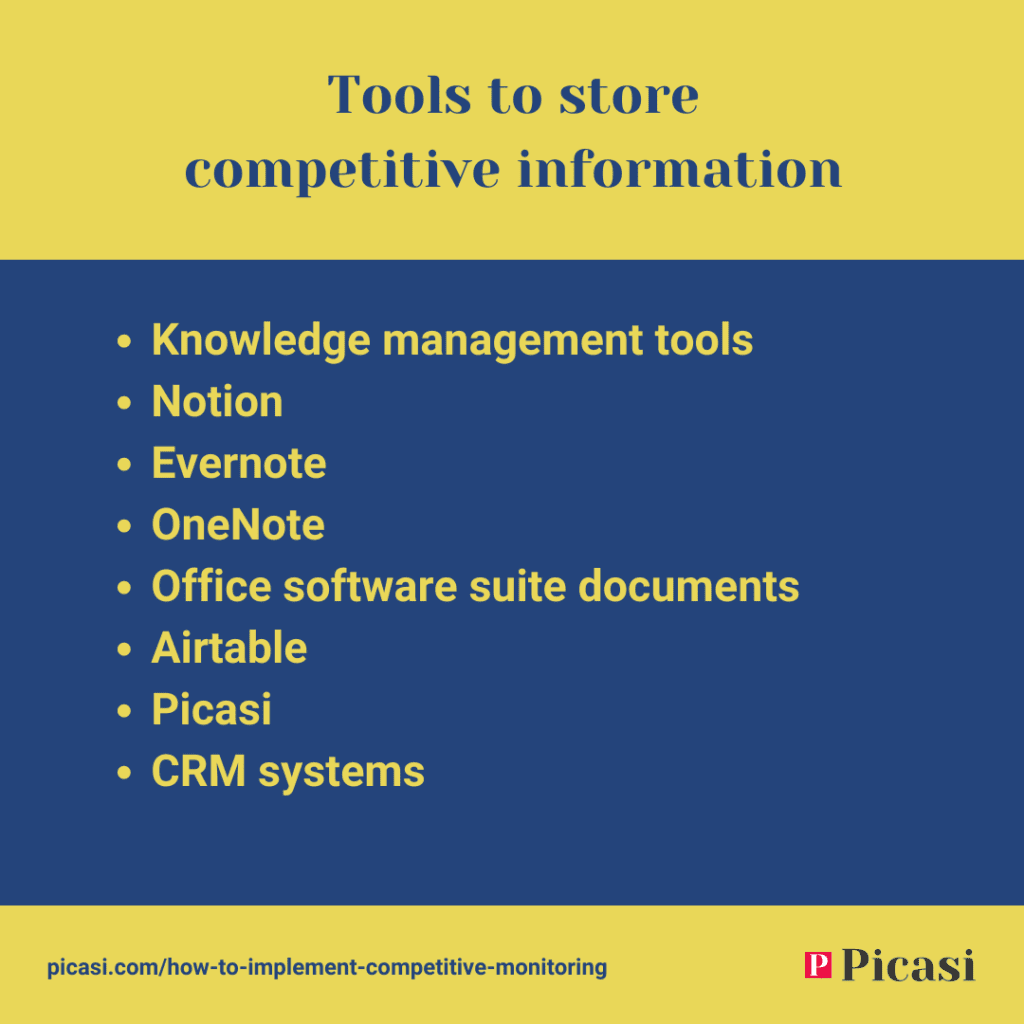 We know there are a lot of possibilities to handle the insight you gather. But since your tech stack might be very different from ours and anyone else's, you'll have to choose a tool that complements your setup. Sorry. 🙁
How to use and share the market insight you gained
You have now gathered and stored valuable insights about your competitors. So, how can you use it to make it worth the effort?
You can grant access to the raw information you collected for your internal use. But if you share your competitive analysis in an edited way, it will be easier to use the information. - And you can shine even more with your valuable contribution!
We can't go into the details in this post, but here are some ways to present your competitive intelligence findings:
A SWOT analysis analyzes strengths, weaknesses, opportunities, and threats. It's a simple yet systematic approach to analyzing competitors.
Sales battle cards are summaries of the findings that can best support your sales team. They are dossiers aiming to quickly update your team about your competition.
A positioning map visualizes how the competitors in a market compare concerning relevant attributes. It's a visual way to show the whole market at a glance.
To dig deeper, drop the mentioned keywords into a search engine. You'll find plenty of additional information.
You can then share your competitor data. Either internally with sales teams, marketing, or product development, to name a few. Or even externally with your prospects, customers, or thought leaders. Sharing your research results can position you as a thought leader in the market.
And this is how to do it:
Curate market-related content and share it in your newsletter.
Share up-to-date insight on social media to spark conversations and prove your expertise.
Discuss your findings on your website as part of your content marketing.
As you can see, processing your competitive intelligence findings is relatively easy. For external communications, you can even ensure never to run out of topics.
Final thoughts
Competitive monitoring is a crucial process to gather valuable insight into your market. However, to make sure you're not getting overwhelmed, you should focus on topics that are really important to you. With that in mind, establish processes and tools to keep the process lean. - If you want to dig deeper first, our curated list of competitive intelligence blogs might help you.
If you manage to do that, you can easily get ahead of your competitors. Most of them won't put in the effort. And they'll wonder how you manage to navigate the market so smartly.
An easy way to get started today is by starting a free trial of Picasi today. You'll gain competitive insight in only five minutes. What a great way to get going.
So, don't overthink it. Start your free Picasi trial now.