It's true. Competitive intelligence (CI) and competitive monitoring are a broad field.
If you want to get into it or are already a pro and want to stay up-to-date, reading some of the numerous competitive intelligence blogs can be helpful.
Here's a curated list of market intelligence blogs to give you a headstart.
It's in alphabetic order, with no priorities.
Capterra's resources section provides a customer's perspective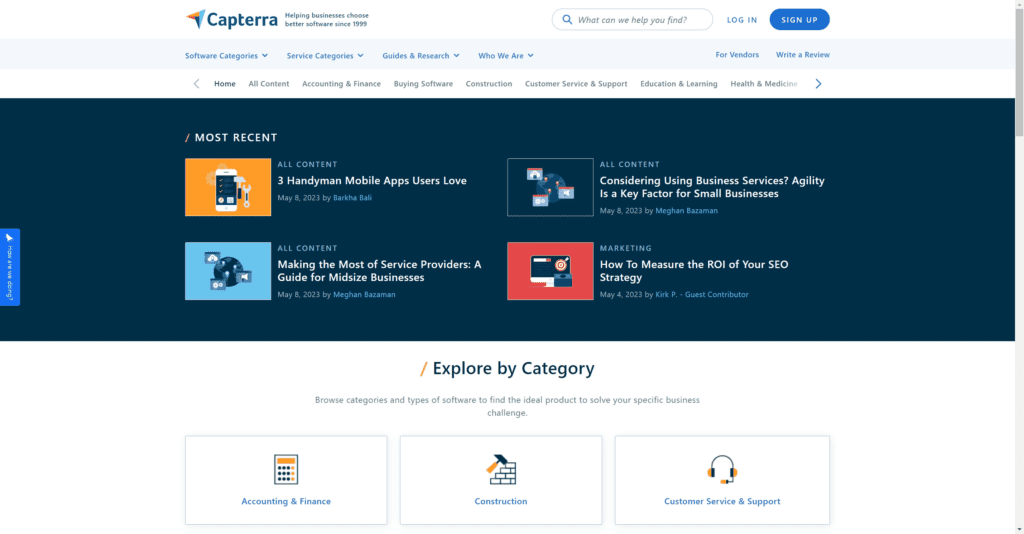 Capterra focuses on software comparisons. But they have a strong content marketing approach and thus a blog/resources section with lots of good articles delivering statistics as well as thoughts about comparing products.
They look from a buyer's point of view. That makes their content very valuable as they provide perspectives you can easily adapt to your competitive intelligence.
Contify's blog teaches competitive intelligence - and their tool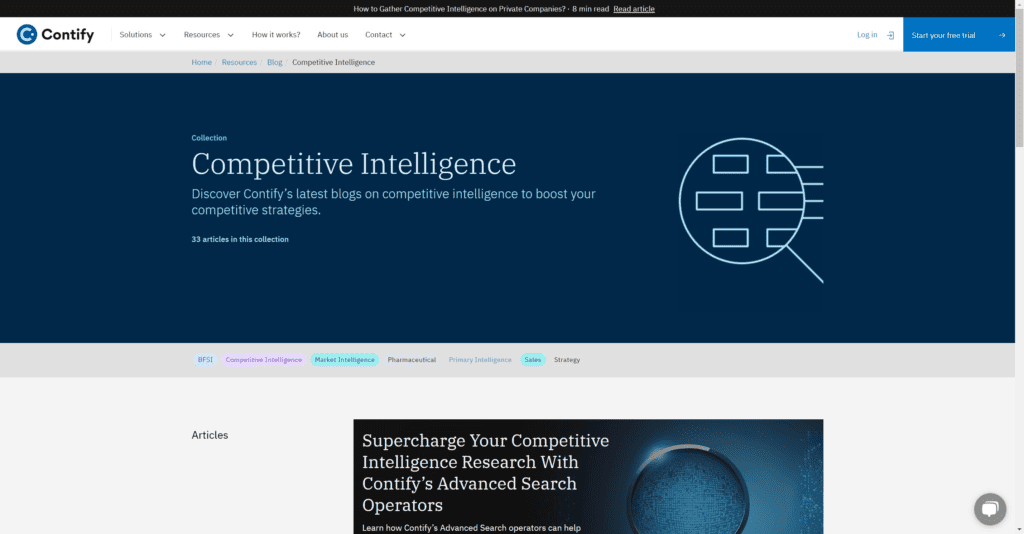 Contify offers enterprise competitive intelligence solutions as a platform or via API. A mighty tool that covers a lot of different sources to catch the latest news.
They talk a lot about their products. But Contify also offers great insight related to competitive intelligence in general. A valuable source to dig deeper.
Crayon's blog offers brought insight with a sales focus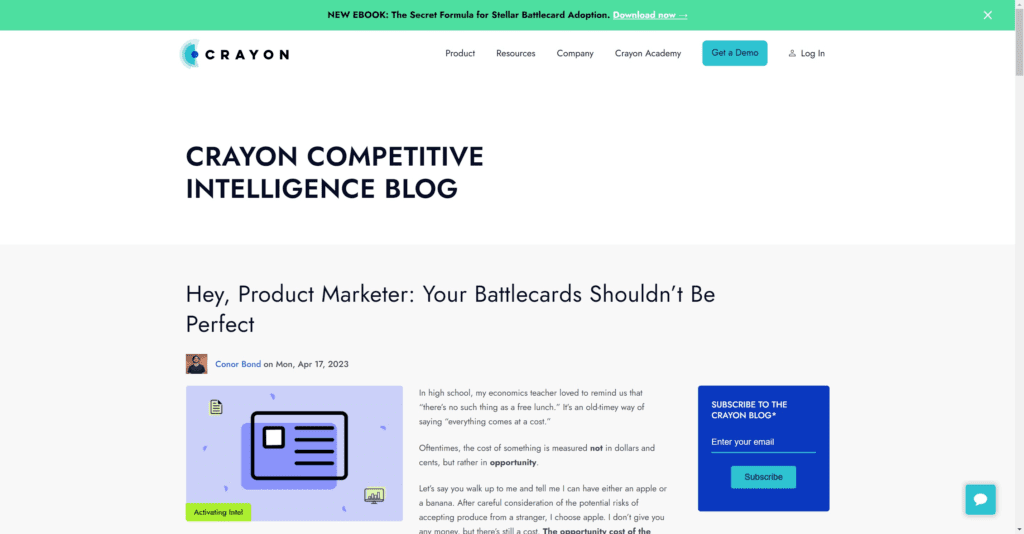 Crayon offers competitive intelligence data and services. They're a big player in the market with a stong and well-known customer base.
They offer well-edited blogs with great insight into different aspects of competitive intelligence, some even including video content. The topics range from strategy to hands-on advice to support your daily competitive intelligence tasks.
Crunchbase's blog helps you crunch the numbers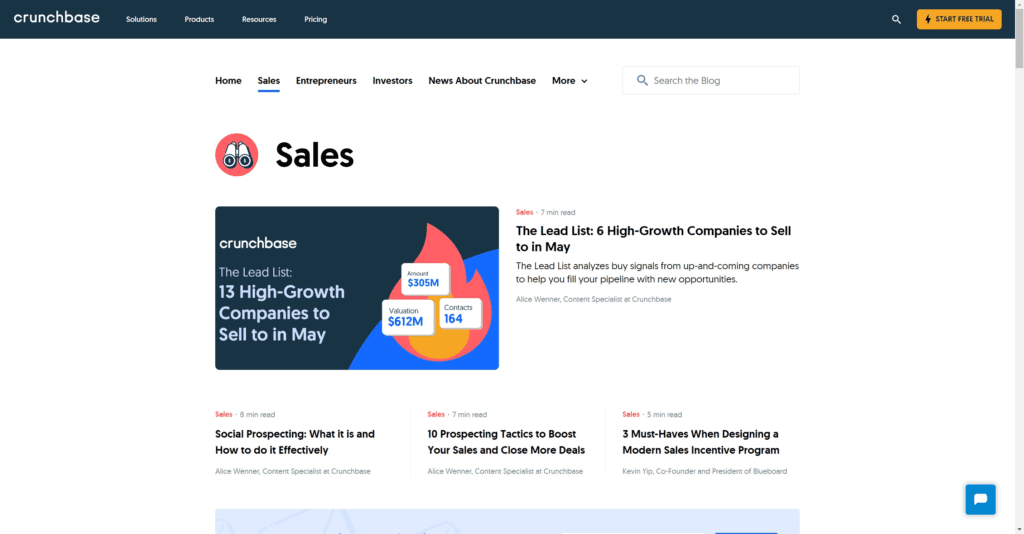 Crunchbase offers access to a wide range of private company data. So, they are a valuable source for hassle-free competitive monitoring.
Their blog also provides great insight into sales-related topics, about methods and tools to improve market insight and sales effectiveness.
Feedly's blog is self-focused but still good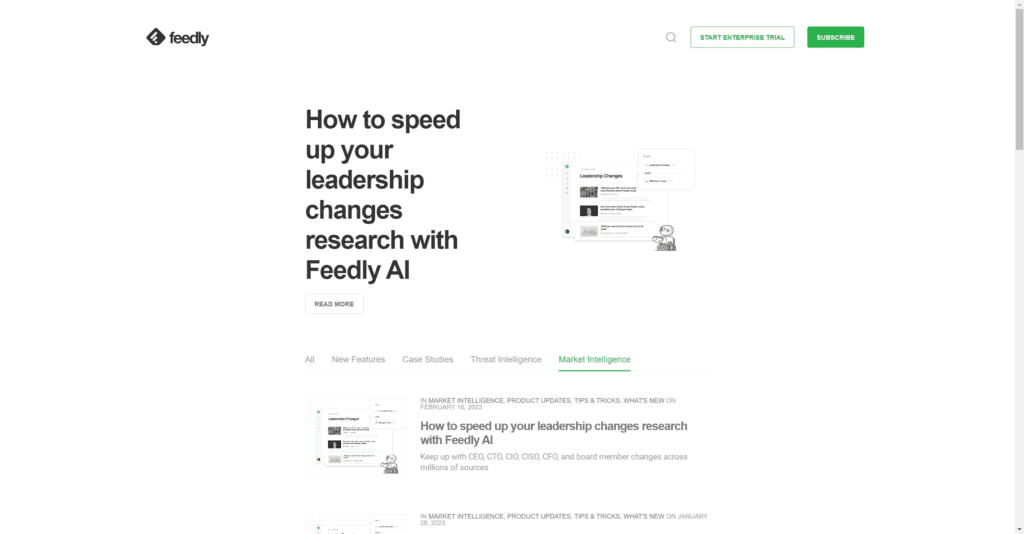 Feedly is a great aggregation tool, mainly for RSS feeds. (If you're running on a very tight budget, you might be happy to hear that they offer a free tier.)
They publish content in a blog category dedicated to market intelligence. Though they write a lot about Feedly, they also offer more general insight and best practices about monitoring your market.
Gartner Insights offers deep insight across industries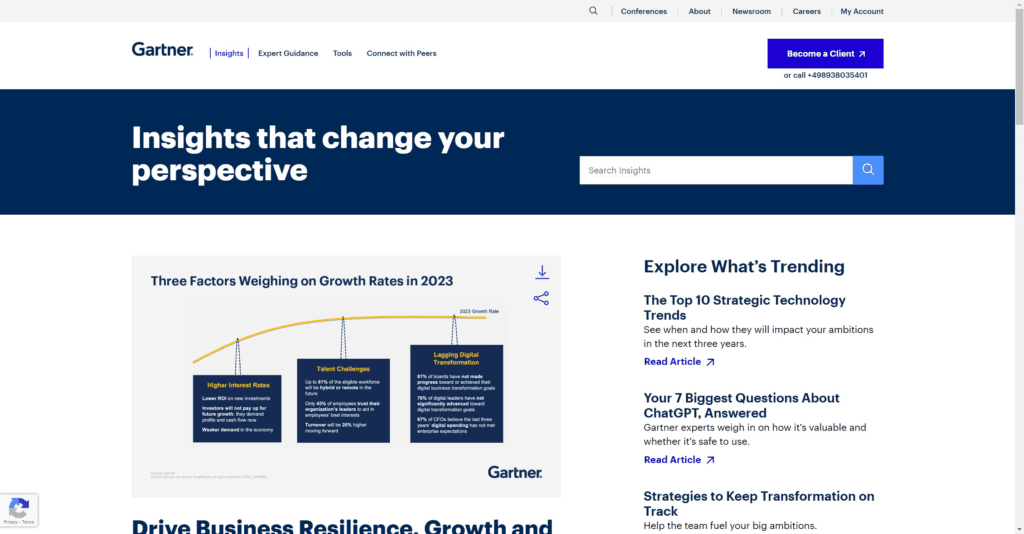 Gartner is among the leading international suppliers of business insight. They continuously research a lot of different industries and are widely known for their Magic Quadrant reports.
Though most of their insight is being sold, they tease a lot of it in insightful articles on their blog. A great source for market-related insight and upcoming trends.
HubSpot's blog is full of valuable content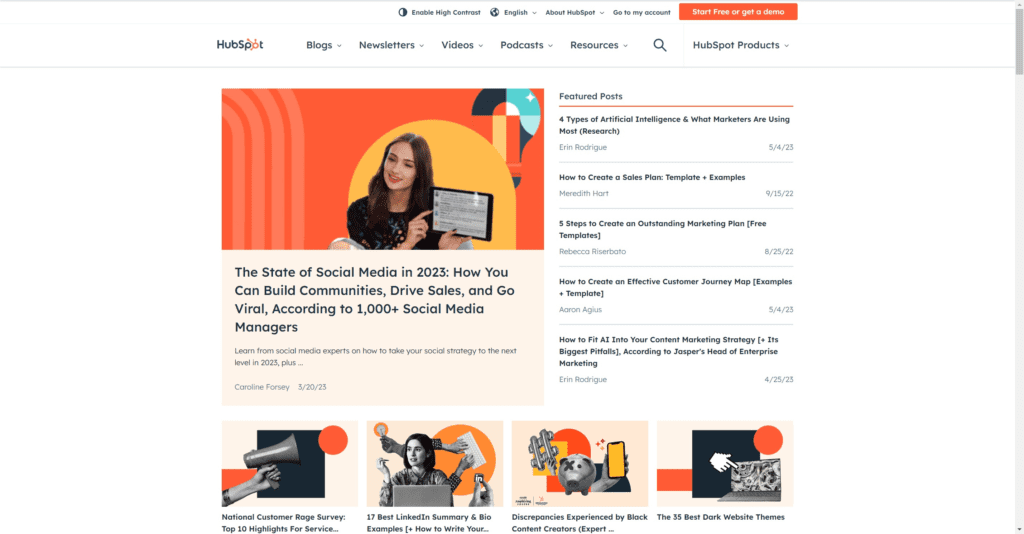 CRM giant HubSpot is one of the early Inbound Marketing Evangelists. As such, delivering valuable content on their website has always been part of their strategy.
HubSpot's blog covers marketing and sales broadly and deeply. It's a great source to learn about methods and tools. And to find up-to-date statistics and insight into trends.
Klue's blog enables sellers for competitive intelligence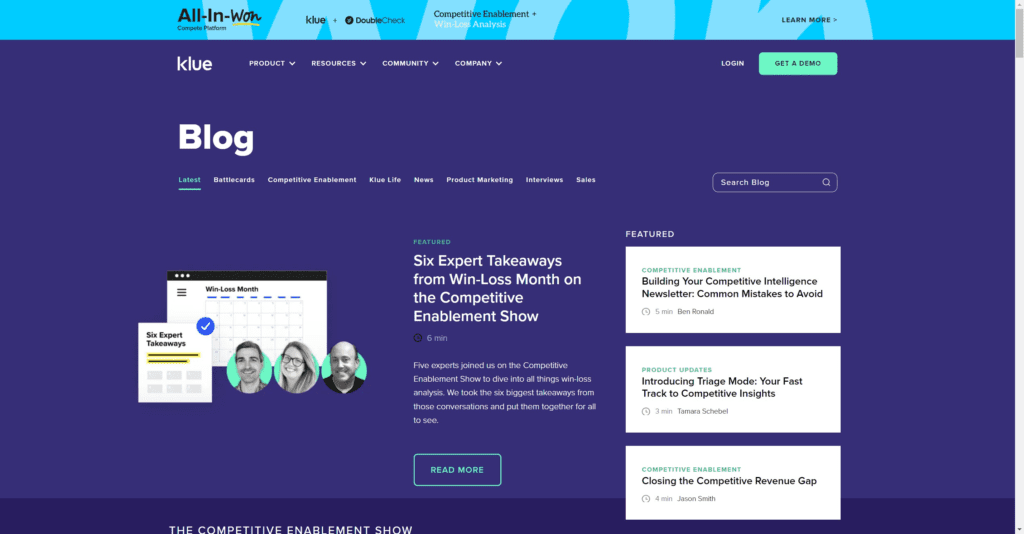 Klue offers a strong Competitive Intelligence tool and is being used by many leading businesses across the globe.
Part of their content marketing strategy is their extensive blog that offers both marketing information as well as CI and sales-related content.
Kompyte's blog focuses on battle cards to support sales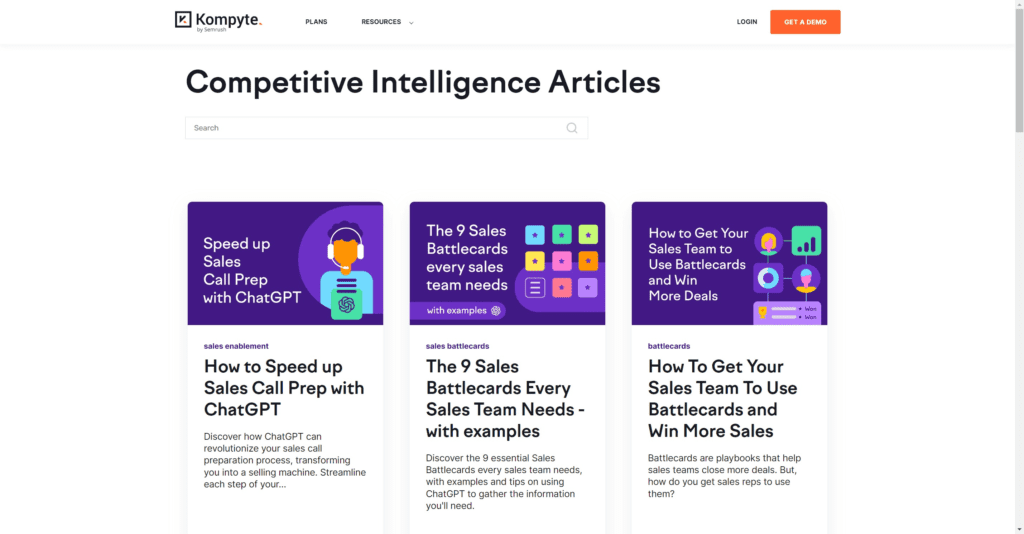 Kompyte is Semrush's competitive intelligence automation software that automatically aggregates battle cards for sales teams.
Their blog focuses on battle cards to trump competitors and other ways to increase the success of your sales team.
SCIP's articles - not exactly a blog, but a great resource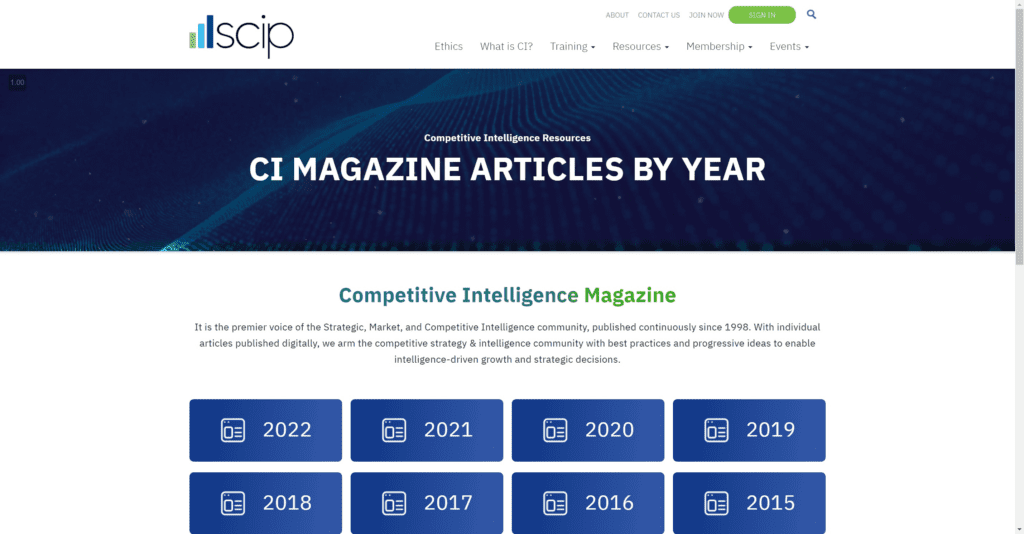 SCIP is the Strategic Consortium of Intelligence Professionals, a well-established non-profit organization promoting competitive intelligence. They offer a membership but also provide a lot of information freely on their website.
Among their broad range of resources, they offer a lot of articles. Though not exactly a blog, you can find more than 1,000 articles from the Competitive Intelligence Magazine published over the course of more than 20 years.
The content comes from relevant thought leaders, so we couldn't keep this source from the list.
Did you miss relevant competitive intelligence blogs?
Yes, we know the list is incomplete.
It's just a selection of great sources to get you started if you want to dig deeper.
However, please let us know if you know about another market intelligence blog we should consider putting on the list. We're always happy to learn about sources we might not know yet.
And even if your suggestion doesn't make it on the list: We'll have an eye on them. Because guess what we do? We're watching the market. Continuously!
So, if you know another great blog, please send your recommendation to us via our contact form.
Thanks for helping us get more informed.